MSD's Keytruda (ingredient: pembrolizumab), immunotherapy for lung cancer, is the company's flagship item that sold $14.38 billion worldwide last year.
However, MSD Korea is struggling with limited reimbursement for Keytruda in Korea.
Keytruda was the first immunotherapy to obtain the regulatory nod as the first-line treatment for advanced non-small cell lung cancer (NSCLC) in Korea in March 2017.
However, Keytruda is still not reimbursable fully due to failure in the negotiations between MSD Korea and the government over how much the national health insurance should cover the drug cost.
Recently, rival immunotherapy Tecentriq (atezolizumab) by Roche expanded the first-line indication for NSCLC four years later than Keytruda.
Under the local approval-reimbursement linkage system, the Health Insurance Review and Assessment Service (HIRA)'s Cancer Drug Review Committee is expected to evaluate whether Tecentriq is eligible for reimbursement.
In a meeting of the cancer drug review committee on Wednesday this week, observers are paying attention to whether the panel will discuss giving reimbursement to Keytruda and Tecentriq together and whether it will grant the green light.
Korea Biomedical Review has met with Kevin Peters, who took office as the new managing director of MSD Korea in November, to hear about his thoughts on Korea's drug reimbursement system and the company's strategy for Keytruda reimbursement negotiations with the government.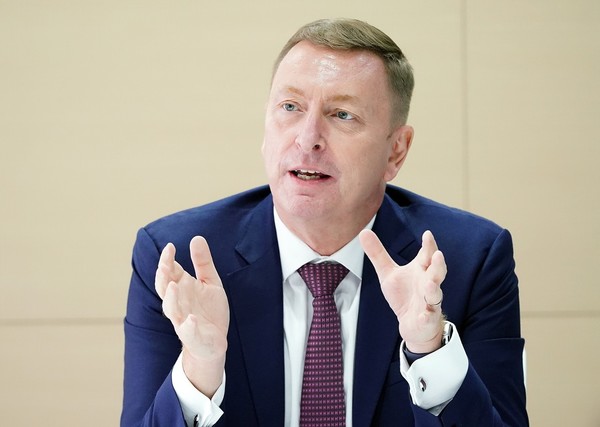 Question: Discussions about expanding Keytruda's insurance benefits in Korea are not moving forward. Seven months have passed since you took office as general manager of MSD Korea. What's your opinion on the Korean drug reimbursement system?
Answer: The reimbursement is the most important issue for us. We hope that as many patients as possible can use the innovative drug, but we fully understand the government's position to consider health financing. It is clear that the government and our company have a common goal of "providing the best medicines for Korean patients." We're working together to find the best way to reach a common goal.
Discussions for increasing the accessibility of Keytruda are ongoing. From my short experience as a general manager in the past seven months, Korean doctors and the government seemed very willing to push for broader reimbursement for Keytruda. I guess everyone hopes that we can discuss the issue "a little faster."
Lung cancer patients in 52 countries are already using Keytruda as the first-line standard treatment. I hope that Korean lung cancer patients could get improved access to the new drug as soon as possible.
Q: Expanded insurance benefits for Keytruda were delayed probably because MSD Korea's strategy has failed. The HIRA is soon to discuss Keytruda reimbursement again. Have you changed the company's strategy?
A: I want to tell you again that the company is focusing on supplying innovative drugs for patients as soon and effectively as possible. In Korea, one lung patient dies every 30 minutes. If we translate this number into an annual figure, it is a very large number. In other words, this is a very urgent matter. Our role is to open up all the options for doctors to treat their patients, whether as a combination or monotherapy. It is up to doctors to decide what is the best option for patients. Ensuring a choice for doctors is very important for patients and physicians fighting cancer.
As the leader of MSD Korea, I can guarantee that the company will work with the government and healthcare experts in all processes to ensure that physicians have a choice to help patients receive the best treatment.
MSD Korea has proposed an unprecedented offer to the cancer drug review committee, and I hope to see progress in winning reimbursement for Keytruda in several weeks.
Korean medical institutions have greatly contributed to major clinical trials of Keytruda. I hope that the government could consider those experiences when deciding on expanded reimbursement for Keytruda.
Q: To achieve the company's goals, you said you would prioritize communication and partnership with employees. But there seems to be some distrust among employees due to the recent spinoff of Organon Korea and enhanced monitoring for compliance. What do you think?
A: In early this year, the company developed an "Aspirations Map" that shows our business direction and strategies. It was developed to share our visions to employees in detail and help them understand well.
The company indeed values compliance and ethics. Because compliance is an important element of our business, not only protecting the company and employees but our customers. As much as it is important to set up compliance standards, it's also important to listen to employees' opinions about the standards and deliver its message well.
MSD Korea's management signed a collective agreement with labor in January. I feel proud that we could reach a mutual agreement after close discussions with the trade union.
I plan to visit regional offices in Daegu, Gwangju, Daejeon, and Busan, starting from early July, to communicate with the staff. I will share the management's positions and also listen to what our workers have to say. If they have any advice, I will take it humbly at any time.
Q: What do you think is MSD Korea's role in the Korean healthcare industry?
A: What I was most impressed about Korea is that Koreans are highly professional. In Korea, so many people are not only professionals but "who can work." Physicians also seemed to have rich and solid scientific experiences. Scientific data derived from partnerships with Korean medical institutions are also highly evaluated. Among the top 10 institutions in the world, MSD is working with for anticancer drug trials, four are Korean.
So, MSD is continuing R&D investment in Korea. Out of 13 billion global R&D investment last year, 15 billion won ($13 million) went to R&D in Korea. There are 142 clinical trials ongoing in Korea.
MSD will focus on innovative drug development in four key businesses — Oncology, Vaccine, Hospital Specialty, and General Medicine. The old MSD had excellent product portfolios, but the product range was too broad, and the company's strategy had to be scattered. With the spin-off, we can focus on key areas. As we continue to invest in R&D, we expect to see more achievements in the future.


Read More:'MSD Korea proposed unprecedented offer for Keytruda reimbursement'