Panaji: An interactive portal www.yestolifecampaign.in has been launched to directly engage with youth and families to improve their understanding of life-threatening effects of
substance abuse
and to empower teens to reach their full potential.
The portal launched by Human Touch Foundation has an interactive space where not only services and information on the impacts of substance abuse can be accessed, but also mental health professionals will be available for interactions.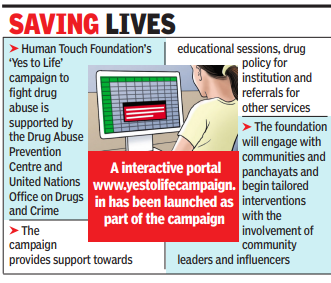 "Not everyone who requires information or help with substance abuse wants to meet face to face. Some prefer to have their issues addressed through this smart format where they also don't have to reveal their identity," the foundation's director of operations, Applesta da Costa, said.
The website was launched as part of the foundation's 'Yes to Life campaign' to fight substance abuse.
Founder of the foundation, Peter Borges, said that substance abuse is one of the reasons some youth fail to reach their true potential. "
We must ensure teens across our state have the tools and knowledge to make good decisions that will positively impact their lives. We need a wholesale shift away from the punitive, carceral approach to substance use, and toward public health strategies rooted in compassion and dignity. We also need the state and central government to fund youth-led prevention programmes," he said.
Da Costa said the campaign empowers young people with the facts they need to make informed decisions for their future.
"The earlier teens start using drugs, the greater their chances of continuing to use them and developing substance abuse problems later in life," she said.